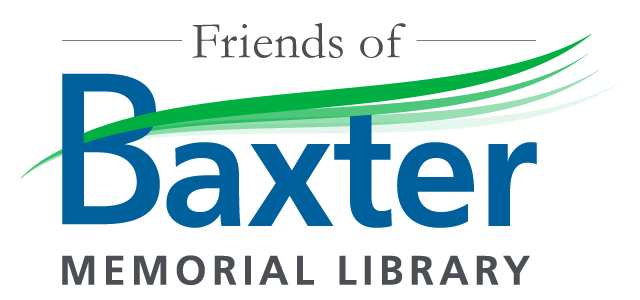 Dear Friends,
It is my pleasure to invite you to join the Friends of Baxter Memorial Library. Together, we can make our library a wonderful community resource.
Your help is needed to raise funds, organize special events and to advocate for the library.
If you are interested in serving on committees and being active in events, just let us know. We need that kind of help, too.

Sincerely,

Diane Caswell
President, Friends of Baxter Memorial Library
Mission Statement
The Friends of Baxter Memorial Library is a membership organization that supports the library through members' dues and volunteer activities. Its mission is:
Fundraising to supplement library services
Sponsoring and/or cosponsoring with other community organizations activities for all ages that promote the library as a community cultural center
Advocating for the library and its present and future needs
Annual Events
Author/lecture series in March
Book Sales
Spring Into Summer Family Fun Festival in June
We also sponsor many library activities throughout the year. If you enjoy these events and activities, please consider joining the Friends.
Membership
Student Member - $5
Senior Member - $15
Individual / Family Member - $25
Individual / Family Sponsor - $50
Business Sponsor - $100
For more information please call Library Director James Rathbun at 222-1190.